We Were Once Warriors…
For centuries the warrior has been the archetypical model of physical fitness and power.  This is due to the extreme nature of their training and overwhelming odds that they must have had to go through waging war in the ancient world.
The multifaceted development of skills required for the warrior's brand of life and death combat is second to none.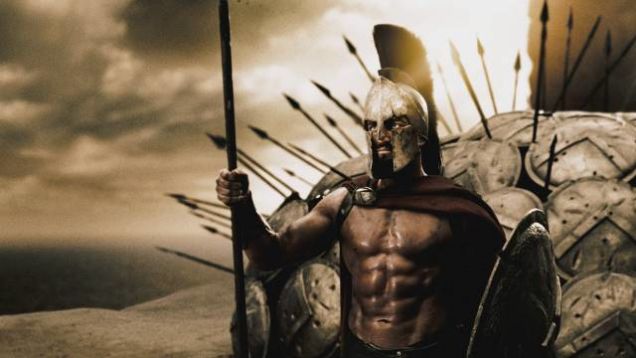 Warriors needed to be able to carry heavy loads over long distances on uneven terrain, wield heavy weapons while wearing armor, wrestle and engage in other forms of hand-to-hand combat, fight for hours or perhaps even days on end in mud, sweat, and blood, all while continuing to display power, coordination, agility, and speed.  This was not a game with a medal or trophy at stake, but their lives and the lives of their comrades in arms, not to mention the entire village or tribe who were relying on them for protection.  All of this placed immense demands on the warrior physically, mentally, and spiritually.
Today's Training from Yesterday's Triumph
The skills we know today as fitness, or strength and conditioning, depending on whether your term is all inclusive or a specific subset, all evolved over time from man's need and ability to wage war.  In fact, one of the earliest examples of sport in the western world is from ancient Greece; we now call it the Olympics.  These early games were created as a way for warriors to channel their aggressive and competitive natures, while simultaneously allowing them to hone their battle skills, in times of peace.
So we can see from this quick look back in time that originally almost all athletics and sport competitions were based on the martial skills of the warrior and utilized as a way to sustain and practice those skills.
Now, working backward this time, is there a way to reverse engineer a warrior's training regimen and use it to improve the components of martial skill, conditioning, AND athletic performance?  Absolutely!!
Try This Warrior Workout on for Size
1)  Heavy Sandbag Carry (Zercher carry, bear hug carry, over head carry) – 3 x 300 ft.
2A) Pike Push-ups on Fists – 4 x 10
2B) Mixed Grip Pull-ups (change grip each set) – 4 x SM
2C)  Loaded Airborne Squats (load up with clubbell, Kettlebell, dumbbell, or sandbag) – 4 x 5/5
3)  H2H Touch & Go Kettlebell Swings x 100
If you train in MMA…
NOW go punch, kick, knee, and elbow a heavy bag or have a partner hold focus mitts for 3 rounds x 3-5 minutes each!  How is your performance?
Or, if you're really daring and want to test your mettle, now is the time to go spar with a completely fresh opponent for 3 rounds of 3-5 minutes!  How has your performance changed?
If you train in Bujinkan or other form of combatives…
Do the same as above but utilizing the basic techniques of your particular style.  For Bujinkan peeps that means try out all the Kihon Happo on a fresh uke!
My brand new WarFit Combat Conditioning Program is perfect for the warrior athlete who wants to build superhuman strength, endurance, and conditioning: