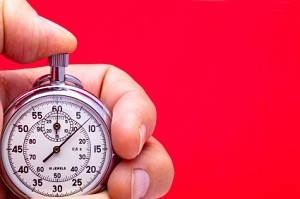 If you have been keeping up with the latest trends in conditioning research then you probably already know that interval training is the most efficient way to train.  Interval training alternates periods of high intensity exercise with periods of rest to produce gains in both aerobic and anaerobic systems.  Forget about those long slow distance runs to improve aerobic fitness!
The Body's 3 Energy Systems
To briefly summarize, the body has three energy systems, 2 anaerobic, or non-oxidative, and 1 aerobic, that serve to create ATP (adenosine triphosphate).  ATP is utilized by every cell in your body; it fuels muscular contractions, cognitive processes, and internal regulatory functions.   Both anaerobic systems fuel maximally intensive activity, while the aerobic system fuels sustained low to moderate level activity.
The ATP-PC system provides immediately available energy for high intensity efforts from ATP stored within the muscles.  This system is the most powerful, but least enduring of the three, lasting only about 10 to 30 seconds max.
The Glycolytic system, the second most powerful, is only slightly more enduring than the ATP-PC system.  It derives energy from glycogen stored in the muscles and liver converting it to ATP in a process called glycolysis.  Its capacity is approximately 90 to 120 seconds.  Rest intervals allow the body to recuperate and restore ATP.
Lastly, the Aerobic system uses proteins, fats, and carbohydrates to produce ATP.  As the intensity of the effort increases, the aerobic system relies more on glycogen for energy.  If the intensity continues to increase, the anaerobic systems must kick-in to provide energy.  The important idea to realize here is that all 3 energy systems are always supplying the body with the energy it needs for any activity, at any level of intensity.  It's just that one may be more dominant than the other 2 at a specific time.
If Anaerobic is 'Without Oxygen', Why am I Sucking Wind?
If you have been following any of the Warrior Fitness Training Programs, you are already familiar with examples of anaerobic exercises and how they affect the body.  Have you noticed how after even a brief, but intense anaerobic session you are breathing heavily?
If anaerobic really means 'without oxygen', how come you are so out of breath?
What happens is that your aerobic system is trying like heck to help restore your anaerobic systems.  All that extra oxygen is being used to metabolize the lactate that's accumulated in the muscles during the bout of intense activity.  In order to continue to supply energy for all-out, intense efforts, the anaerobic system must be replenished.  Excess Post-exercise Oxygen Consumption (EPOC) is the term used to identify this process of extra oxygen being taken in to restore all systems.  So, basically, as the intensity of your exercise increases, so does your EPOC.  And, that's why you're sucking wind!
Tabata Protocol
No discussion of interval training would be complete without touching on Tabata.  Dr. Izumi Tabata at the National Institute of Fitness and Sports in Tokyo, Japan performed perhaps the most well known study on interval training.   A group exercising with moderate intensity endurance training was compared to another group using high intensity intermittent training.  Each group exercised 5 days a week.  The moderate intensity group exercised for 60 minutes, at 70% VO2 max.  The high intensity group did 8 intervals of 20 seconds, followed by 10 seconds of recovery.  They operated at 170% VO2 max.
After 6 weeks, both groups experienced improvements in maximal oxygen uptake.  The biggest difference between them was that only the high intensity group gained improvement in anaerobic capacity.  The high intensity group actually realized a 28% increase in anaerobic capacity AND a 14% increase in VO2max.  So, the study concluded that high intensity intermittent training can improve both the anaerobic and aerobic systems simultaneously.  Very impressive results!
How Can I Use Tabata?
I knew that after reading the amazing results achieved by Dr. Tabata you'd be ready to try using his protocol, I sure was!  The protocol itself is pretty simple, in theory.  Choose an exercise – say sprints, for example.  Perform the exercise for 20 seconds as fast as possible while still keeping good form.  Rest 10 seconds.  Complete 8 rounds.  Sprints are an easy example, but really the Tabata Protocol can be applied to almost any exercise.  Try some of these:
Bodyweight squats
Burpees
Kettlebell swings or snatches
Sledgehammer swings
Push-ups
Sprawls
Renegade Rows
Sandbag Shouldering
Mountain climbers
Jumping
These are just a few examples of exercises that can be used with Tabata. Just make sure you don't overly complicate it because you do have to be able to perform several reps within the 20 seconds!!
Additionally, try grouping together 4 to 6 different exercises to increase the effectiveness of the workout and create a synergistic effect where the total combined effect is greater than the sum of the individual exercises.  This, I think, is where the real fun begins!
To seriously amp up your conditioning, learning how to use various breathing techniques to restore yourself quicker, lower your heart rate, and increase the effectiveness of your conditioning sessions is a MUST!