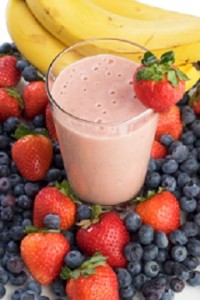 Looking for a quick and easy meal that's healthy too?  Try this delicious recipe for a shake full of protein, healthy fats, and antioxidants!
What You'll Need:
1 Scoop Greens Plus powder
1  Tablespoon almond butter
1 Tablespoon shredded coconut (no sugar added)
1 Cup frozen blueberries
1 Teaspoon cinnamon
1/2 Cup plain Greek yogurt
1 Cup coconut milk or organic whole milk (depending on preference)
Put all the ingredients in a blender.  Mix it up and enjoy!