Tired of store bought protein bars with too much sugar, sodium, and other assorted unpronounceable ingredients?  Try my easy, no-bake Warrior Bars!
Warrior Bars
4 scoops vanilla whey protein powder
4 tablespoons almond butter
2/3 cup organic flax meal
1/2 cup shredded organic coconut
1/4 cup water
Combine all ingredients together in large bowl. Keep stirring until it becomes dough like in consistency. If the mixture is too dry and doesn't come together,add more water, 1 tablespoon at a time.  Mold into 4 equal bars. Wrap in saran wrap and store in refrigerator.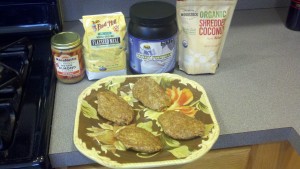 If you are ready to make a serious change in the way you look at nutrition, check out my FREE Ninja Nutrition Manifesto!
For many more healthy, delicious recipes, make sure to visit my friends at May I Have That Recipe?!