There are many different systems of breath work out there that focus on relaxed breathing and stress reduction that also talk about how to increase breath control and expand the practitioner's lung capacity.  Unfortunately the majority of these systems fall short due to the fact that they tend to focus the bulk (or all) of their work on static posture breathing and breath retention exercises.  Usually the practitioner is either seated on the floor, on a chair, or lying down in a comfortable, meditative posture while the breath is regulated through a series of counts and breath is retained in gradually expanding holds.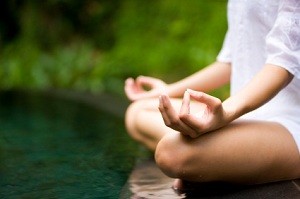 Before any of my Yogi friends get upset with me, let me clearly state that yes, this process works and I am a huge fan of Yoga's Pranayama along with other systems of breath work.  There is nothing wrong with it!  Doing this type of exercise on a regular basis will increase lung capacity and control, to a degree.
So What is the Problem?
The problem with this type of exercise, as I see it, is that very rarely do we require all that enhanced lung power and capacity while sitting on our butts in a comfortable and relaxed position.  Unless you are only interested in showing off how long you can hold your breath at parties and stuff, this way of exercising has limited usefulness.
A much more practical way of exercising lung capacity and breath control is by working the body through a series of simple calisthenics.  By placing the body under stress via exercise while incrementally increasing the retention of the breath on both the inhale (easier) and the exhale (more advanced), we magnify the results.  In my experience, this has a much broader and far reaching effect on the body's systems.  It is also vastly more practical in terms of real world usage for martial art, athletics, and overall strength & conditioning training.
So, how do we do it?
I'm glad you asked!  Let's begin with one of the most natural movements in the world, a basic bodyweight squat.
If you are not familiar with a basic bodyweight squat, here is a super quick tutorial:
Stand in a natural position with feet slightly wider than shoulder width apart
Keep the alignment of your spine as straight as possible from crown to tail bone.
Squat down as low as possible while maintaining the alignment of your straight spine.
Keep the weight mid-foot balance.
Pause for a second at rock bottom.
Lift from the crown of the head to "pull" the body back to standing.
Breathing Squats
We will do our breathing squats in the same fashion but with a couple modifications.  First remember that the purpose of these exercises is to train your breathing and expand your breath control and capacity.  They are not meant to "kill" your legs.  Although, depending on your level of conditioning, they might.
Perform a basic bodyweight squat as detailed above.
Just prior to beginning the squat, inhale deeply into the belly and comfortably hold the breath.  Your goal is to do the squats as relaxed as possible while maintaining the breath hold.
Do 3 squats all while holding the breath on the inhale.
After the 3rd squat, exhale and inhale.  Slowly inhale into the belly and exhale sharply to recover your breath.  When you are recovered, do 3 more.  Repeat.
When you can comfortably do 3 squats while holding your breath (meaning you are not out of breath when you stop), then proceed to 5 squats on the breath hold.
Slowly increase the number of squats you can do on the breath hold.  When you can comfortably do 10 squats with the breath held on the inhale, start over again with 3 squats and hold the breath on the exhale.  You will find that holding the breath on the exhale is much more difficult.  The body is already out of breath and now you are adding stress in the form of exercise.  It is here that you will make the greatest gains in teaching the body how to use a limited supply of oxygen in the most efficient manner.  Make sure you proceed slowly and only add more repetitions when you can comfortably hold the breath on the exhale.
Remember – B.I.F (Breathing Is Fundamental)!
Evolve Your Breathing is a master class in learning how to breathe and respond under stress.  Don't just breathe to survive – Thrive!!
Learn more here…