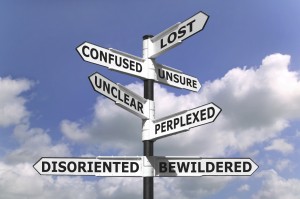 If muscle confusion has you confused, don't worry because you're not alone.  There has been a lot of misinformation regarding this pseudo-scientific training method bandied about the past couple years over the Internet, as well as in local personal training studios, gyms,  and bootcamps.  Hopefully this article will help clear up some of the major myths and misconceptions surrounding muscle confusion.
First off, let's define what the term muscle confusion means as it's currently used.  In a nutshell, it refers to the idea that one should constantly vary exercise selection from workout to workout in order to keep the muscles guessing and avoid the plateau that comes when muscles adapt to exercise.  On the surface this seems to make a lot of sense.  Gains remain consistently high and plateaus are avoided.  So what's the problem?
Let's start with the part that's true.  Muscles do adapt to exercise and gains will slow down, level off, and then eventually stop if we continue to do the same workout over and over again.  However, it does not happen overnight and certainly not from workout to workout.
Who SAID What?
In order for the body to produce an adaptation for improved performance in life, sport, or martial art, we must apply specific stimulus as per the SAID Principle (Specific Adaptation to Imposed Demand). This basically means that the body adapts with a specific type of fitness to any demand which is imposed on it. When the same exercise is performed for too long, the body adapts to the stresses of each set and the adaptations or returns get smaller and smaller. Once it has adapted to the stress, then it's time to change or increase the stress or else we fall into that trap of diminishing returns.
Usually though it takes the body a period of 4-to-6 weeks to adapt and then it is advisable to begin changing exercises. This does not mean that we need to completely throw away everything we have been doing; far from it. An exercise or drill can be changed by increasing intensity, increasing volume, decreasing rest periods, or increasing complexity or sophistication.
What About Strength?
If your goal is to get stronger with muscle confusion, well then I've got some bad news for you.  Ain't gonna happen.  Strength is a skill and must be trained as such.  That means you have to practice, yes practice, the same set of exercises over and over again to get better at them – stronger.  The nervous system becomes more efficient and allows the muscles to recruit greater and greater amounts of tension which result in an increase in strength.  So, to get stronger one must work the same exercises as often as possible while staying as fresh as possible.  Changing your exercises too frequently in order to confuse the muscles doesn't result in an increase in strength.  Nothing confusing about that.
Is Your Trainer Confused?
This pseudo-scientific concept of muscle confusion made popular by programs such as P90X and Insanity has opened the door for some less than scrupulous, or less than knowledgeable, trainers to take advantage of the unsuspecting public.  By playing on the popular myth that exercises must be changed every workout or else you risk the dreaded plateau they can avoid doing the difficult, yet necessary work of properly programming workouts, sessions, or classes for their clients.  They simply throw together a random bunch of exercises and call it a day without regard for whether or not these jumbled exercises meet the goals and needs of the clients.
Remember, it takes at least 4 weeks for your body to adapt to a particular program and for you to determine what is actually working for you and what is not.  If you constantly change up your routine then you have no idea which exercises are giving you the best return on investment (ROI).  As I always say, random exercise selection yields random results.
What's the Solution?
There are 2 main stumbling blocks I see when it comes to creating highly effective and successful strength and conditioning program.
Stumbling block #1 is repeating the same strength and conditioning workout over and over again with no variation.
Stumbling block #2 is the opposite. Constantly changing the workout each session to, in some pseudo-scientific way, try to "confuse the muscles" is just as problematic, as we discussed above.
What is the answer?
Following a program built on the Principle of Programmable Chaos.
In essence, Programmable Chaos Training is a paradigm shift combining cutting edge sports science with a little bit of chaos. This provides continued forward progress in all aspects of fitness while completely avoiding the stagnating plateaus of Stumbling Block #1 and conforming to the SAID Principle detailed above to completely avoid the random results of Stumbling Block #2. 
Find out how to super-charge your own strength and conditioning training HERE