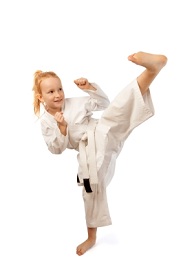 One of the first things fellow parents tend to ask me after they find out I've been involved in the martial arts for over 25 years is, how do I find a good martial arts class for my kids?  Well, after years of answering this question, I realized my answers tend to follow a certain pattern.  They may be expressed in slightly different terms and the order of the points may change each time I'm asked, but the answers remain the same.  So, for all those parents out there who are looking to involve their child(ren) in the martial arts (a highly recommended pursuit, by the way),  I've formulated my own "top 10" list:
1.  Is the school a franchise? 
 These typically have cookie-cutter, one size fits all programs and tend to be belt factories.  Steer clear!  There may be franchises out there that do not fall into this category, but I haven't run into them.
2.  Do the kids in class fear the teacher or respect him? 
This is very telling.  As a kid, I was afraid of my first karate teacher and even though I loved the art and practiced like crazy at home, I'd try to get out of going to class almost every week. 
3.  Are the parents sitting in the waiting room comfortable with the teacher and happy with the class? 
When you visit a school, talk to the parents who have been there awhile.  Do they constantly complain about the teacher, the atmosphere, or even the cost?  Do their kids love the program or simply tolerate it?  Also, what is the vibe you pick up when walking into the school – listen to your gut!
4.  Variety! 
Kids get bored very easily.  And, when they are bored, they don't learn very well.  Classes should have a wide variety of drills to show children principles and techniques from many different perspectives.  Remember, martial arts are not academic subjects!
5.  Tons of physical exercise. 
Kids have a lot of energy.  Exercises that teach physical skills, as well as give them an outlet for their energy are the best.  Also, in case no one has told you, we have a growing childhood obesity problem in this country.  Exercise, along with a focus on a healthy diet, is key to resolving this issue and giving our kids the tools to ensure a lifetime of health.
6.  Do they teach self-defense applications of kata, or just the forms?
This is essential, not only for the correct transmission of the art, but also for the students to understand how to actually apply the techniques.  Obviously, this must be tempered to make some aspects of practice age appropriate, but it must be taught.
7.  Do they teach rolling and falling techniques?
 Not only are these fun for the kids to practice, but they can, and do, prevent injuries.  Very important both in the dojo and out in real life.  Additionally, they help to develop coordination, agility, and kinesthetic awareness!
8.  Is situational awareness stressed?
This is, without a doubt, the most important aspect of self-defense and must be continuously stressed and communicated.  Bad things do not "just happen" to kids.  There are always pre-incident cues that are present, if one is paying attention.
9.  Do the kids in class appear to be motivated or just going through the motions?
Watch carefully when you visit the class.  Are they lackadaisical in their practice?  Do they look like they don't want to be there?  Or, are the kids energized and focused throughout the class? 
10.  Leadership. 
A school does not need to have a specific, defined class program on "Leadership" (these are usually a colossal waste of money for parents… hint, hint!).  It should, however, endow the students with leader qualities through the example of the teacher and by getting the kids involved in the class room (dojo) instruction.  This can be done by rotating who leads various drills and allowing children to teach their peers by explaining and demonstrating certain kata, techniques, or exercises.  This is not only good for the child's self confidence, but also for their overall and long term development.