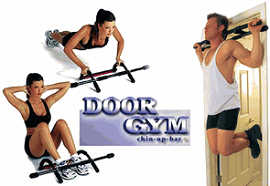 Recently the nice folks over at Karate Depot sent me a Door Gym to review.  The cool thing about the Door Gym is that it is designed to be used with a multitude of different exercises, not just pull-ups.  This is the perfect piece of equipment if you are into minimalist training and need one tool for multiple tasks! 
Door Gym is very easy to install.  It requires no fasteners, no nails, no screws, and can be installed in the door frame and removed in about one second.  Yeah, it's that easy!  My wife also loves the fact that it wedges in and will not mark or damage the door frame.  Plus, it took me all of 5 minutes to put it together right out of the package.  Which, if you know anything about my assembly skills, is saying a lot!
Door Gym Exercises
Close grip pull-ups / chin-ups
Wide grip pull-ups / chin=ups
Hammer grip pull-ups
Commando pull-ups
Hanging crunches
Hanging leg lifts
Static holds
Virtually any type of deep push-up
Situps
And more…
A great idea for those short on time is the grease the groove method.  Simply install the Door Gym in a door frame that you pass frequently during the day.  Each time you pass it, bang out a quick set of pull-ups or chin-ups (or whatever exercise you choose).  Over the course of a day you will incorporate a ton of volume without burning out.  Try it!  You can be creative, have fun, and get a great workout at the same time with this piece of equipment.
At $49.95, the Door Gym is a great investment in your health and fitness.  Highly recommended by Warrior Fitness!