Tomorrow, December 3, is my 42nd birthday.  And, as anyone who has read Douglas Adam's classic trilogy, The Hitchhiker's Guide to the Galaxy knows, the answer to the ultimate question of life, the universe, and everything is 42.
Therefore, upon the occasion of my 42nd birthday I thought I might sit down and write out some reflections learned over the past 42 years.  They may not contain the answers to life, the universe, and everything, but they are a good start!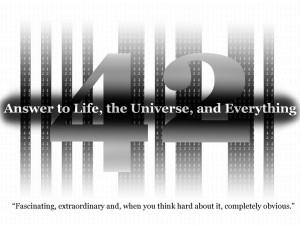 Family first, always.
Brothers can be best friends.
Best friends can become brothers.
Nothing is as wonderful, or truly terrifying, as holding your newborn child in your arms for the first time.
Those feelings do not lessen as the children get older.
Life does not happen to you, it happens FOR you.
If you find yourself majoring in minor things, STOP.
Never be bored.  There is too much to do, too much to learn, too much to experience, and life is too damn short.
Always train, even when you don't feel like it.
Especially when you don't feel like it – that's when the biggest breakthrough appear!
Don't find excuses, find a way.
Meditate, don't medicate.
There is still nothing like the first sip of freshly brewed coffee first thing in the morning.
Have strong values and know what you stand for before you are ever challenged.
Never compromise your values to please someone else, you will always regret it.
Go to church.
Pray – it helps.
Have a daily health maintenance routine. Here is my Morning Routine.
Workout at least 3 times per week.
More is not always better.  Only better is better.
Oftentimes the obstacle is the path.
Life happens fast – pay attention!
Be fiercely independent yet smart enough to accept help when needed.
Master your craft.
Read something motivational/inspirational/educational every day.
Persistence and determination alone are omnipotent.
Train more than everyone else, it adds up quicker.
There is a level slightly beyond excellence called outstanding – strive to be outstanding!
Always listen to advice from people you respect, but make up your own mind.
Use zero-based thinking.
Always be kind to people, you never know when or how it will be returned.
Protect others.
Always buy the highest quality foods you can afford – your family's health is too important not to.
Put coconut oil in your coffee!
Always maintain a childlike sense of wonder about the world, but never be childish.
Remember that the only thing you can ever control is not what happens to you, but your reaction to it.
Find your mission and dedicate your life to it.
Never be afraid to look foolish.
Do not sit around waiting for things to happen – take action to make things happen!
Timing is never perfect so just do it!
Know the wisdom of when to be patient.
Understand that happiness is a choice you make ever day.