Training outside in the elements has always been one of my favorite ways to practice martial arts and the art of strength, or Warrior Fitness.  There's something special about the fresh air, sunshine, and changing terrain that gives life to the training and makes it hugely satisfying for me.  In fact, my weekly Bujinkan Martial Arts class trains outside all year round in all sorts of weather from the bitterly cold and snowy winters to the blisteringly hot and humid summers.  This type training not only helps increase our physical resilience, but our mental fortitude as well by helping us to become comfortable being uncomfortable.
Power Places
While warriors, monks, mystics, and many other seekers of the way  have always trained outdoors for thousands of years, there are certain places that have come to be known as places of power.  These places of power have a particular feel to them, perhaps a higher level of vibration or energy, that makes training in them more energizing than most other locations.  The traditional places of power for a warrior to go on Musha Shugyo (warrior pilgrimage for austere training) are the mountains, the deep forests, lakes, and of course the sea shore.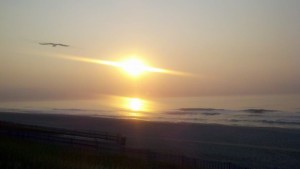 I spent last week at the sea shore in the New Jersey resort town of Surf City on Long Beach Island with my family.  While not technically on a Musha Shugyo, since it was a family vacation, I did get up early and head down to the beach every morning at 6 AM to do my solo training exercises.  My daily personal practice sessions focus on exercises for both health and the building of martial power.  Specifically it includes mobility (of course!!), specialized breathing exercises, Zhan Zhuang (standing) and Shi Li (testing force) from Yiquan, and other internal power/aiki conditioning exercises learned from Dan Harden to build a budo body.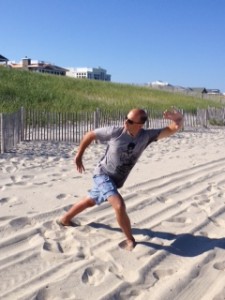 Being able to do my training standing on the beach in the early morning sun was an amazing experience.  The sunshine and fresh ocean air invigorated body, mind, and spirit.
I am not sure if it was the elevated levels of energy at the sea side, or the uniqueness of taking me out of my normal training location, or perhaps it was the relaxed atmosphere of being on vacation with loved ones and away from the daily grind, or maybe a combination of them all, but my training every morning felt like it was at a much higher level than usual.
Heaven Earth Man
In internal power training, TenChiJin (heaven earth man) is not just a way of distinguishing levels or separating out technical strategies, but in fact a concrete methodology for the training and attaining of internal power.  The force of heaven is gravity pulling down while earth supports up.  Both main forces of up/down are controlled in the middle through man's intent.
Standing in my living room at home I sometimes feel like my intent is big,strong, and full.  However, standing on the shore looking out at the vast ocean meeting the sky gave me a much greater appreciation for the enormity of this type of work.  Controlling the forces of heaven and earth in you through your intent is certainly no small feat; but it is trainable and can be taught.  However, like many things in martial arts, it's a journey with no end – the training is ever evolving and ongoing –  no matter how good you think you are, there's always more to learn!
I plan to use the progress I made last week in my place of power to motivate and inspire me to keep pushing forward in my training and teaching.
If you vacation this summer, make sure you use the early morning time wisely.  Don't sleep in and miss the wonderful training opportunities awaiting you in nature.  Take advantage and allow it to inspire you for the rest of the year in your normal daily personal practice!