For the past several weeks there has been a running theme interwoven throughout my blog posts.  That theme has been practice, Daily Personal Practice (DPP), to be precise.
I've gotten several questions about the details of my own DPP since I refer to it several times in my writing.  So I figured I would pull back the curtains and give you a more detailed glimpse into my Morning Routine of DPP in this post.
My AM Daily Personal Practice
I usually wake up between 5:45 and 6 am every day.  I grab a quick shower ending it with several minutes of cold water to help wake me up and boost T-levels.  Then I head downstairs and start making coffee.  While the coffee is brewing I squeeze 1/4 of a lemon into a tall glass of room temperature water and drink it down.  I keep a bag of quartered lemons in my refrigerator so I can just grab one every morning without worrying about having to cut them up.  The lemon infused water is great for re-hydrating the body after sleeping and cleansing the liver first thing in the morning.
I've got my coffee now.  Some days I go with my personal blend of Warrior Coffee, other days I just add half and half and start training.
5 minutes of joint mobility (more if I really need it) to get warmed up and start the blood flowing.  Then a quick, one minute breathing exercise to fire up my energy levels
Active Standing
My main morning practice is 40 minutes of Zhan Zhuang, standing meditation.  I call what I do in the mornings, Active Standing, to distinguish it from the Relaxed Standing I told you about previously.  The focus of this exercise is to really work intent (yi) in order to cultivate that curious, yet highly elusive body quality of motion in stillness.
This training is combined with several other Internal Power conditioning exercises such as winding, spiraling, and breath training.  Some of these exercises come from the Yi Jin Jing (Muscle-Tendon Changing Classic), others were taught to me by Dan Harden, or from Yiquan.  The purpose of these exercises is to condition the tendons, fascia, and other connective tissue in the body to be strong, flexible, and elastic in order to develop relaxed whole-body power and be able to spread load (force) throughout the body (more on this later!).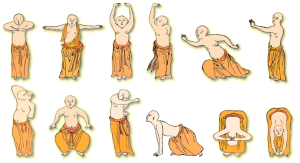 Depending on my time constraints for the morning, I sometimes add in more dynamic work to wrap up the session or call it quits and get ready for work.  I'll be posting another article on my weekly workouts soon as this post just covers my AM training.
AM Supplement Cocktail
After my early morning training I take my AM supplements.  Here is the list of what I currently take every morning:
I also tend to defer my breakfast, the breaking of my night-time fast, until much later in the day.  Usually I'll have my first meal of the day around noon, sometimes 1 pm.  Refer to my free nutrition program to find out why – Ninja Nutrition Manifesto <<====