Become A Certified Warrior Fitness Coach…
Become a Certified Warrior Fitness Coach and Learn the Results Proven Strength & Conditioning Methods That Have Taken Hundreds of Martial Arts Practitioners to the Next Level of Training!
Discover Old School, Proven Strategies to Develop Powerful AND Rapid Results for Yourself, Your Students, Clients, and Athletes!

Understand Exactly How to Implement the Warrior Fitness Training System to Train the Whole Body in Multiple Planes of Movement to Create a Dynamically Stable Structure and Superhuman Levels of Functional Strength!

What is the Warrior Fitness Training Certification?
Inside the Warrior Fitness Training Certification you will learn all the powerful, results driven techniques and strategies, including exercises, progressions, and coaching cues. that I use to build phenomenal strength, endurance, mobility, flexibility, agility, and conditioning in one place. You will learn the philosophy of training, the why, and the when to use specific combinations of exercises and how to put them together into a results-oriented program for getting anyone, but especially martial artists, stronger, better, and vastly more capable.
"Well I can now proudly add the title of warrior fitness coach level 1 to my list of accomplishments.

Jon Haas's system is excellent for martial artists or first responders, or anyone who wishes to gain functional conditioning. It covers all aspects of functional conditioning.

Jon aside from being a great guy, is a great coach and teacher as well. Everyone learned a lot. I highly recommend Jon or his system to anyone!"                                          – Rick Ray, Owner Bujinkan Makoto Dojo
I have put my entire system together into one package as a certification for martial artists and martial arts teachers to help bring old school fitness training back to martial arts.
Every part of this experience will be hands-on. You will learn this system in the most effective way possible, by doing and by coaching!
There May Not be Any Secret Techniques, but There Certainly ARE Secret Training Strategies Used by Warriors to Create Superior Strength!
Who is the Warrior Fitness Certification for?
Martial Arts Teachers
Martial Arts Students
Military / LEO
Personal Trainers and Fitness Coaches
Anyone With a Desire for MORE Out of Their Fitness Training…
I recently attended Jon Haas' Warrior Coaching Certification.  As a policeman for the last twenty years I have always tried to maintain a warrior type lifestyle, physically and mentally.  Jon's workouts, way of thinking and training definitely reinforce these ideals.  By practicing Jon's workouts, staying fit, and practicing  martial arts, I feel I can be ready for whatever the job may bring.

This is one of the reasons I decided to attend the Warrior Coaching Certification class. Jon's instruction and work outs help with strength, mobility and breathing like you wouldn't believe.  Jon also touched on program design an area where he is very knowledgeable.  I would recommend this class to anyone who has an interest in being fit mentally and physically. Thanks again Jon!

Sgt. William Speck, Training Division, North Plainfield Police Dept.
Level 1 – Foundations of the System
Introduction to the Warrior Fitness Training System philosophy and methods
Warrior Warm-Up System – The ultimate mobility and movement prep to prepare the body for training as well as an assessment tool to determine readiness
Warrior Fitness Introductory Workouts– Unique and highly effective bodyweight. kettlebell, and other Old School strength & conditioning exercises to build functional strength, muscle, endurance, balance, agility, and conditioning, including progressions and regressions for every exercise and level of ability
Warrior Flexibility Training – Learn how to master tension and relaxation to increase flexibility and ROM safely and effectively
Advanced Breathing Exercises – Breathing is the foundation of health and strength. These proven exercises will increase energy, endurance, performance, strength, as well as aid in relaxation and cooling down
Program Design – How to systematically create effective and efficient workouts and training plans for yourself and your clients
Great for martial artists and fitness instructors like. This program did wonders for me personally, because it took my Taijutsu to another level and pushed me to new highs that I didn't know that I had in me.

As for my school ( Bujinkan Virginia Budo) the benefits are now endless. The way Jon Haas took his time to break down each and every exercise step by step, and explain the benefits of the exercise and how it translates to the dojo and/or the gym, will help me to help my students with their taijutsu strength training.

My favorite part of the program was the kettlebell training. This was all new to me. I never used one before , but with Jon's guidance I felt like a pro when I was done.

Jon Haas, thank you for your time and patience and guidance and continued support in this wonderful program. I am proud to be a certified fitness warrior.

Vaughn T. Aiken, Shidoshi-ho Instructor Bujinkan Virginia Budo
Level 2 – Combat Conditioning Specialist
Delve Deeper into Warrior Fitness Style Combat Conditioning Training
Learn the Specific Warrior Fitness Rapid Warm-up for Combative Training
Learn How to Build 3 Dimensional Strength Throughout Entire Range of Motion Utilizing Both Prime Movers and Rotary and Angular Strength with Unconventional Bodyweight Exercises and the Primal Conditioning Tools of Kettlebells and Clubbells
Strengthen Your Structure to Build Dynamic Stability and Power Generation with Stored Elastic Energy (SEE)
Create Tendons of Steel Strengthen and Condition Connective Tissue for Power Generation and Endurance
Advanced Program Design Concepts – How to Program for the Chaos of Combat
"I took Jon Haas' Warrior Fitness Coaching Level 1 Certification on April 17, 2016 in New Jersey. It was excellent. Jon is one of the most knowledgeable teachers/coaches/trainers I know. I have no martial arts background, but he has decades of it. It was fascinating to hear him talk about program design, cuing, breath work, mobility, flexibility, strength training, etc., from his martial arts perspective. He shared copious amounts of relevant, well-thought out information and kept it fun and engaging. (We got quite a workout, too.) Jon happens to be my own personal fitness trainer. Despite being with him every week, I still learned a lot from this course. And ultimately, my clients are benefiting from it. Thank you Jon Haas!"

-Lin Goldkrantz, ACE-Certified Personal Trainer, YTT200 Yoga Instructor, CETI-Cancer Exercise Specialist, NETA-Senior Fitness Specialist, AFPA-Holistic Nutrition Specialist, and Jon's client
Additionally, every attendee will receive…
** The Complete Warrior Fitness Training Systems Manual ($147 value),
** Warrior Fitness Coach T-shirt ($25 value),
** Certified Warrior Fitness Coach Certificate (Priceless!),
** Full Access to the Warrior Fitness Coach Mastermind Group on Facebook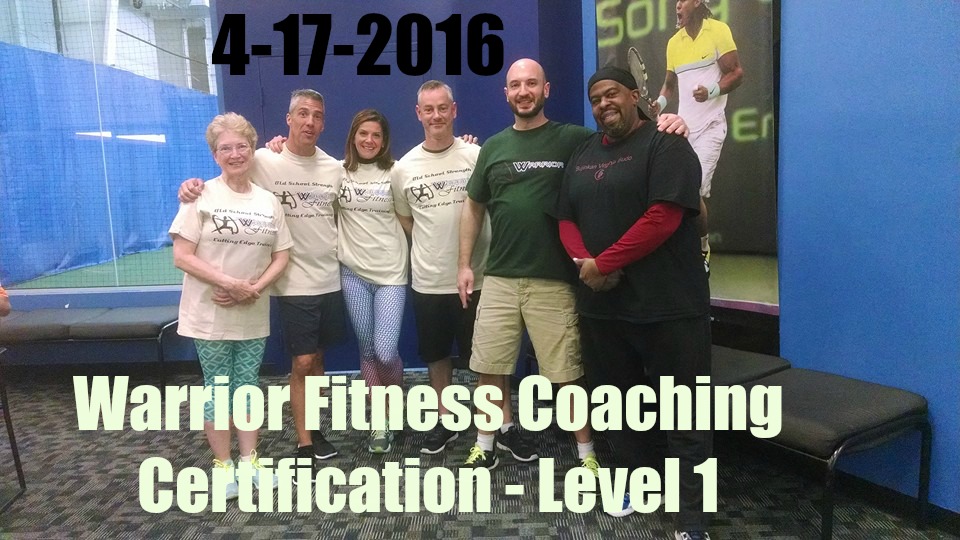 Tuition for the Warrior Fitness Certification Seminar
Level 1 Only

: $97 Early Bird Discount (Regular Tuition is $497)
Level 2 Only

: $97 Early Bird Discount (Regular Tuition is $497)
 Package Deal (Level 1 and Level 2): $147  Early Bird Discount (Regular Tuition is $697)
Register NOW!
When:   TBD 
Where: TBD
Please note that the Warrior Fitness Coaching Certification Seminar is adjustable to the level of knowledge and experience of the participants. 
If you have any questions, or would like to host a Warrior Fitness Coaching Certification Seminar at your facility, send an email to WarriorSeminars@Gmail.com
If you are ready for the training experience of a lifetime, signup NOW!
About Jon Haas, The Warrior Coach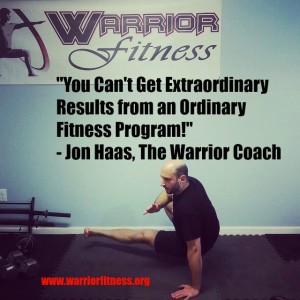 A lifelong practitioner of martial arts and physical culture, Jon Haas wrote the book,Warrior Fitness: Conditioning for Martial Arts back in 2008. Since then he has created numerous online resources and dozens of training programs for fitness and martial artists from all over the world, helping hundreds of people to become stronger, fitter, more capable versions of themselves.
He is the creator and head coach of Warrior Fitness Training Systems, as well as a certified Underground Strength Coach – level 2, a certified ACE & FMS personal trainer, and a 9th dan black belt in Bujinkan Budo Taijutsu.