Finally… a Complete Guide for Men to Getting STRONG(er) as You Get Older!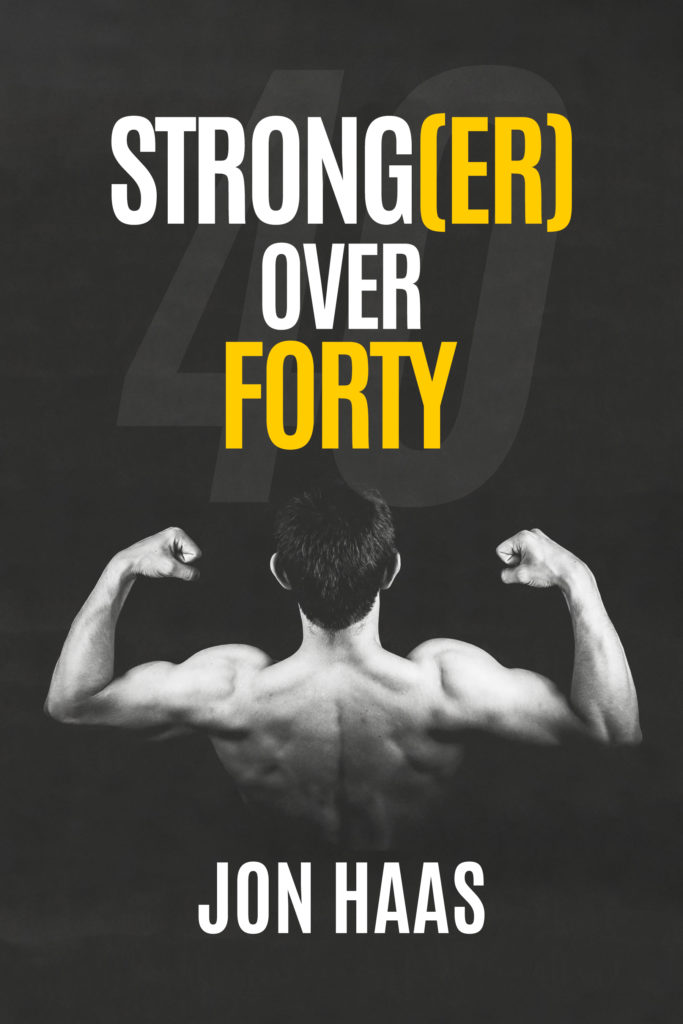 Listen Up Men who are approaching – or OVER! – the BIG 4-0.
This is for you!
Forty used to be considered old. Used to be…
I clearly remember my Dad's 40th birthday party when I was a kid. It was filled with gag gifts and "Over the Hill" cards, hats, t-shirts, and games.
After 40 people used to expect a gradual, or not so gradual, decline into old age, retirement, and death.
Not so anymore…
I turned 40 in December of 2012. Every year since then I have gotten stronger, more flexible, better conditioned, and more resilient. I feel better now than I did 20 years ago – and I was no slouch in my 20's!
Why? Because as a lifelong martial artist and physical culturist I have cracked the code on living stronger as I get older – and I want to share ALL my hard won knowledge with you!
How do you burn fat and build muscle at the same time?
How do you optimize testosterone levels?
How do you program workout intensity along with rest and recovery training to avoid plateaus and consistently make progress?
How do you properly fuel your body for optimal performance?
How do you recover, coordinate, and refine flexibility and range of motion?
How do you wake up with energy and vigor for attacking your day?
How do you put it all together to get maximal results in minimal time?
I firmly believe that I am in my physical prime and will continue to get stronger as I grow older, and in this program I will show you exactly how to do the same thing!
Others may believe that they are in a state of decline and getting weaker as they age… not so for the warrior. And, if you follow this program, not so for you either!!
Remember – the mind navigates the body. What you believe to be true, is true.
In fact, research tells us that people do not stop moving because they get older, they get older because they stop moving. The ability to build strength and muscle does not decline – you simply have to know how to combine correct physical training, optimal nutrition, and supplementation with the correct mental training – belief, outlook, focus, concentration, visualization, etc. to become truly limitless.
That's why I have designed The Strong(er) Over Forty Program just for you.
This program is specifically designed for the man over 40 who refuses to "go gently into that good night…"
The Sad Fact Is That It's Now Considered Almost Abnormal To See A Strong, Fit Man Over 40. Unfortunately, Sometimes Even Over 30…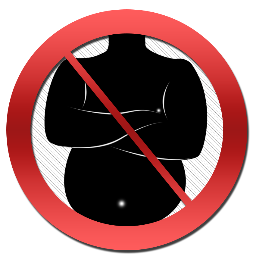 How Did This Happen?
When Did This Happen?
WHY Did We as a Society Allow This to Happen?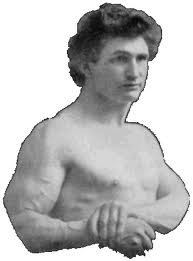 Bernarr MacFadden (1868 -1955), The Father of Physical Culture, called "WEAKNESS, A CRIME."  And this was way back in the early 1900'S!
Our physical power as men has dwindled. Our once naturally strong, rugged muscular physiques have become flabby and weak. OUR BIRTHRIGHT AS POWERFUL PHYSICAL BEINGS IS BEING LOST…
So what are we going to do about it?
Let's begin by rephrasing MacFadden's quote.
Instead of chastising ourselves by calling "WEAKNESS, A CRIME", let's instead say that our ability to be strong for ourselves and for our loved ones is our duty, responsibility, and moral obligation as men!
I have spent years creating a completely unique program that will provide you with the exact fitness, nutritional, hormonal, and mindset blueprint that you need to follow to become STRONGER, BUILD MORE MUSCLE, HAVE MORE ENERGY, INCREASE FLEXIBILITY AND MOBILITY.
Weakness May Not Be A Crime, But I Do Believe Strength Is Your Ethical Duty and Moral Obligation As A Man!
FINALLY! THERE IS A COMPLETE FITNESS PROGRAM DESIGNED FOR MEN OVER 40… 
The Strong(er) Over Forty Program: The No BS Guide to Leaning Out, Building Functional Muscle, and Aging Strong for Men

 – Take Advantage of it and Start on Your Path to Strength and Health Today!.
Are You Tired of Spending Energy Coming Up With Excuses to Yourself as to Why You Are Not Meeting Your Fitness Goals?
Becoming Strong(er) Over 40! does not have to be an intimidating, frustrating experience any more!
Say goodbye to the stress of not knowing which exercises to do, how to create fat-burning, lean muscle building routines, and how often to do them.  
Say goodbye to not knowing what foods to eat, how often to eat, and how much to eat.
Say goodbye to feeling unmotivated and sluggish.
Say goodbye to your lack of determination and feelings of
inadequacy
.
Say goodbye to not having the flexibility and range of motion to move freely and without pain.
You will feel like a real warrior when you develop the chiseled muscle and rock hard physique that turn heads and make your friends and co-workers ask – what the hell are you doing??!
Your family, friends, and workmates will be astounded at your boundless energy and unbeatable mind mentality!
In The Stong(er) Over 40! Program You Will Learn:
How to master your workouts in less time with greater, more measurable results…
How to burn fat AND build muscle at the same time for a strong(er) and highly conditioned body…
How to become flexible, agile, mobile, and supremely capable…
How to increase range of motion and flexibility, pain free…
How to build super nutritious meals that taste amazing and are simple to create…
How to strategically utilize cheat meals so you can eat pizza and drink beer and STILL lose weight…
How to know the exact supplements to take to optimize your Testosterone and Growth Hormones which will aid you in building muscle and burning fat like a champ – among other bedroom type benefits!
How to have a winning mindset all the time to keep you positive and motivated…
How to perform short, daily routines that literally set you up for success…
Elite coaching to fast track your success, hold you accountable, and motivate you to get optimal results…
What is included in The Strong(er) Over Forty Program?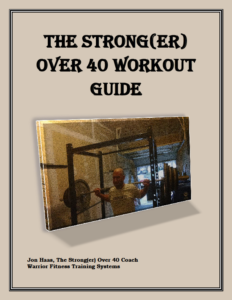 Develop the lean, powerful and rugged physique you were always meant to have as a man with this complete 3-month workout program that waves intensity and recovery to maximize effectiveness AND ensures you progress quickly, without injuries or set backs. We will utilize short, intense 20-30 minute Hybrid Workouts combining dumbbells or kettlebells and your own bodyweight will torch fat and build lean, functional muscle!
The SOF Workout Guide contains built-in video descriptions of every workout, along with complete warm-up and cool down routines. (a $197 value)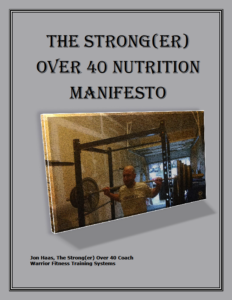 The Strong(er) Over 40 Nutrition Manifesto. Learn how to eat like a man to burn fat, build whole-body lean muscle, and dramatically increase health and energy!
The optimal diet for men over 40! No counting calories. Put fat-burning and muscle-building on autopilot! Strategically utilize cheat days to still enjoy pizza and beer while burning fat like a champ! (a $47 value)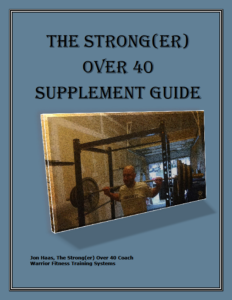 The Strong(er) Over Forty Supplement Guide. Learn what supplements actually work, and which are worthless. The SOF Supplement Guide cuts through the BS and gives you access to the most effective supplements to support and enhance strength, health, and performance – both in the boardroom and the bedroom! (a $27 value)
FREE Surprise Bonus!
Dad Strength Book ($24 value)
How To Go From Dad to Super Dad!
A 3-Phased Approach to  Recover, Build, and Sustain Strength.
Bring Back Strength With Full-Body Workouts. Control, Coordinate, and Move With Power.
Burn Fat, Build Muscle, and Increase Testosterone Quickly!
STOP! THIS PROGRAM MIGHT

NOT

BE FOR YOU IF…
You are NOT interested in getting stronger as you get older.
You do NOT want to be rugged and powerful.
You do NOT want to look and feel 10 years younger.
You do NOT want to be leaner, more flexible, more confident, and more capable.
You are looking for the easy way out.
You are

Under

40 years old.
You are a woman.
Otherwise, Get started on living the Strong(er) Life Today!!
Get the Complete Stronger Over 40 Program for Only $27!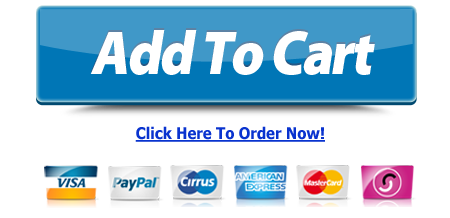 About Coach Haas
44 year old creator and Head Coach of Warrior Fitness Training Systems and father of 2 beautiful girls.
Certified Underground Strength Coach – Level 2, ACE and FMS Certified Personal Trainer, Bujinkan 9th dan Blackbelt, Author of the Book Warrior Fitness, Creator of The Warrior Transformation Program