Warrior Fitness Guide Striking Power – Level 1    (e-book)
by Jonathan Haas, 9th dan Bujinkan Budo Taijutsu and certified Underground Strength Coach –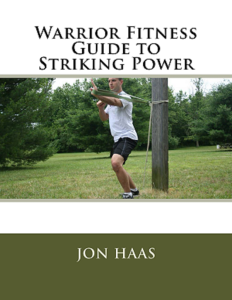 Level 2
Specific Physical Preparedness for ALL striking arts from old school Traditional Martial Arts to modern MMA!

Learn how to build a powerful structure to stabilize punches, kicks, and martial movement!

Discover how to use low-tech, high yield tools to strengthen strikes throughout a range of motion!

Sledge Hammer for force production, rotational strength, grip strength, and old school conditioning!

Medicine Ball for explosive strength and rotational strength!

Resistance Bands for force production, rotational strength, increased stabilization!

Bodyweight Exercise

and Isometrics for structure and stabilization!

Discover how to use Intelligent Tension rather than general tension to power strikes!

Learn Breathing and vibration exercises for recovery and restoration!

Pure, 100% actionable content – no fluff, no BS, no filler!

Sample Workouts!
Buy Now for only

 $25

USD!!

Warrior Fitness Guide to Striking Power is a downloadable e-book. No physical products will be shipped. After you order, you will get INSTANT ACCESS to download the e-book onto your computer. The e-book format is adobe acrobat PDF, which can be viewed on Mac or PC.