Physical preparation for war is a time honored tradition from the Spartan warriors of ancient Greece, Roman soldiers and gladiators, and the samurai of 16th century Japan, right up to our modern military men and women of today. Physically demanding training is not only a proving ground for would be warriors, but also lays the foundations for further indoctrination and skill development for higher levels within the warrior arts.
The Martial Power Program is for those traditional martial artists committed to taking their body, mind, and spirit to the next level!
This program is for people who are serious about learning how to functionally integrate high level fitness training into their martial arts practice!
Learn How to Build a Strong and Flexible BUDO BODY!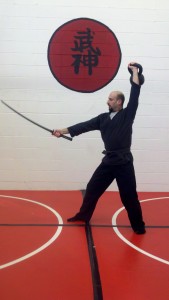 "I am so glad to have come across Jon Haas a few years back when I found his Warrior Fitness blog during my search to find a way to incorporate cardio/conditioning training with my Bujinkan training. Enrolling in his Martial Art Power program is the best thing that I did for myself. As I have been working at nights for the last 4 years it has been hard to get to proper dojo training and being involved in his program, I felt like I was having a regular gym session 5 days a week.

Did I mention that I am based in Sydney Australia! The magic of technology these days meant that I was able to get in touch with someone of the experience of Jon. The way he broke down the program for the 6 weeks was very good and the variety he introduced in the exercises was great, no chance to use the excuse of doing repeating boring exercises. Every workout was intense and I worked out a very good sweat. Jon is someone that goes straight to the point and demonstrates the exercises in a very simple form so that anybody can do it at their own pace and eventually build up as they progress. It is a full routine which includes Warm up/Mobility exercises before the work out and Cool down exercises after. Incorporating Budo in between the workout days was a great complement to it, as the weeks progressed I could see a direct link between the workout exercises and my budo.

Jon was very friendly and always there to answer any questions that I had. I would definitely recommend this program to any Bujinkan students out there. I guarantee you will not regret it!"

Cheers

Jeanmarc
8-Weeks of Training – Just Plug -n- Go!
Each week,
Martial Power

brings you:
High-Intensity Fat-Burning Circuits: each Martial Power Workout can be completed in less than 30 minutes, yet those 30 intense minutes melt fat faster than hours of mind-numbing cardio-style exercise.

Complete Joint Mobility warm-up program and Active Recovery: specific low-intensity mobility exercises will increase your level of readiness by stimulating blood flow to prepare the body for work while lubricating each joint.

Real Martial Applications: each exercise has been carefully selected to create the highest level of specific conditioning while building and reinforcing your martial skill sets.
I thoroughly enjoyed the Martial Power Program! I looked forward each week to the different workouts we would be doing. Within each workout, I liked the different animal movements that we did. I liked each of the videos of San Shin No Kata. They helped me to understand how to move correctly when doing them. The encouragement and motivation that I received from the group and Jon Haas himself was very inspiring. I would recommend this program to anyone who trains in Bujinkan. It will increase your flexibility, stamina, balance, and self-confidence. I plan on continuing this program even though it's now over with. This program has motivated me to strive not only to take better care of myself physically but mentally as well. This is a very well thought out and planned program. I liked that the workouts didn't take up much time in my day. I found I had more energy, and felt more awake. Overall, I highly recommend this program.

-Vanessa from Baltimore, Maryland
The
Martial Power Program

includes:
Video Workout Briefings that will help you

BUILD LEAN MUSCLE and TORCH FAT

so you can train like a true NINJA while building up more strength, conditioning, and powerful athleticism! ($97 Value)
Video of Jon's Personal Joint Mobility Routine.  This is the routine from my daily personal practice that will prepare the body for training, increase local blood flow to muscles, and aid in removing toxins from the body!  ($37 Value)
Martial Power Program Manual That will lay out the workouts, 8 week programming schedule, pictures of the exercises, and advice on active recovery training. ($37 Value)
"The Martial Power Program is amazing. I hate long routines, but this program is totally 

opposite

 of that and I look forward to every next training session.

I'm currently in third week of program but I'm totally surprised at how amazing the results I got in just 2 weeks of training. I lost 4 kilos of 

boring

 fat, got large amount of increase in strength and endurance

, got some improvement in balance, which was really a big problem area for me, etc etc…

I could write few pages about how this program is great, but my training is waiting for me and I'm going to go do it! Everyone, please listen to me, do yourself a 

favor

 and grab this program and all its goodies!"
**FREE BONUS**

Video on Sanshin no Kata Training Drills That Will Take Your Training to a Whole New Level and Increase Your Martial Power! ($37 Value)
You Will Be Transforming A Whole Lot More Than Just Your Body… You'll Be
Transforming Your Mindset,

Mental Toughness, and Martial Skill As Well!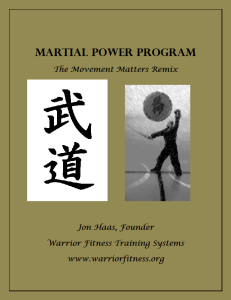 The Martial Power Program is valued at over $208…
It's Yours today for ONLY $37!

Jon, I benefited greatly from the Martial Power six-week workout program. I just turned 54 yesterday and this program was difficult but I gained strength and added flexibility that I have not had in years. I have been into fitness since I was introduced to it at an early age from my fitness enthusiast parents. My dad was a Golden Gloves boxing champion and my mom a State diving champion. Through them I have been exposed to various workout routines and a warrior mindset at an early age. I have done the "old school" workouts all the way to the latest popular workout DVD's. This program is unique and the results are there. Thanks for the opportunity and I will be following your website and the Youtube videos. Gambatte!

-Rick Jurvis
Please Note: This is a downloadable program. You will NOT receive a physical package shipped to you in the mail. The entire package will be immediately available for you to download and get started right away after ordering. This program is NOT available in stores, so you can only access it through this website.
The written material is in the PDF format, so you will need Adobe Reader installed on your computer to open the files. The video files are available in  the .wmv format.
Just the FAQS

Q: Who is this program for?

A: Any and all martial arts students and teachers who are highly motivated warriors looking to take their body and their budo skills to the next level.

Q: What type of results can I expect?

A: You will gain whole body strength, shed fat, and build lean athletic muscle. You will become more agile, mobile, and hostile!

Q: What type of equipment do I need?

A: Your bodyweight, access to a pull-up bar, some workouts will require kettlebells or dumbbells.

Q: How much time is required?

A: Each workout session can be completed in 30 minutes or less.

Q: Do I need to be a specific rank or be training a certain number of years?

A: Nope. All levels of skill and ability are welcome.

Q: What if I am not located near NJ?

A: This program is completely downloadable and instantly accessible upon purchase!
About the Coach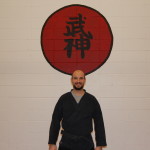 Jon Haas is a certified Underground Strength Coach and has been involved in the martial arts for over 30 years. He has been training in the Budō Taijutsu arts of the Bujinkan for more than 22 years and is currently ranked as a Kudan (9th degree black belt) under Jack Hoban Shidōshi.
He is the founder of Warrior Fitness Training Systems. Jon is also author of the book, Warrior Fitness: Conditioning for Martial Arts.