The Ultimate 10 Week Transformation Program  for Dynamic Stability, Advanced Mobility, and Enhanced Martial Power
"A Unified Theory of Strength for Martial Artists..."
"One of true good end efficient online training. Jon Haas is the coach to have if you want to start a different kind of training. Highly recommended. I used one of his program to be fit after my selection for the French open cup of Kali, and it is just perfectly adapted for the kind of power, cardio and flexibility we all need in martial arts." - Alec Cendre
"Jon's Program is perfect blend of exercises and movements that compliments and enhances any style of Martial Art. Each exercise subtly works on many different levels; from mobility to strength building to enhanced functional movement, the program covers it all. This program is a worthy successor to his earlier work, the Integrated Strength program. If you practice Martial Arts, sit up and take note!" - Alexander Dinkle
How to Build a More Powerful, Connected, and Resilient Body for Martial Arts, Fast!
Mobility and stability are a continuum. At the far end we have the hyper-mobile who lack strength and can literally be blown over by a strong wind. On the other end of the spectrum we have the super-stable who are completely unmovable, yet also cannot get out of their own way - they are literally muscle bound. So what's the solution?
As a martial artist, you must be both dynamically stable AND highly mobile at the same time.
A weak, or structurally flawed, posture will limit the amount of power delivered and reduce the effectiveness of every technique employed. Conversely, a strong posture is the key to the effective execution of all your techniques. A strong posture carries the support of the ground and efficiently conducts that power through the user with minimal noise creating, in effect, a transparent power.
"You can't shoot a cannon out of a canoe."
Water provides a very poor base of support to maximally fire a cannon ball thus it will not travel very far. This is exactly what happens with a poorly constructed posture. So much power bleeds off in different directions that the mean effect of the movement is extremely reduced and more energy is required in order to compensate for the inefficiency.
Unified Strength is a specifically formulated, 5-phase approach to building a significantly more stable, mobile, and powerful body for martial arts!
This program is literally the source code for how to build your own connected, powerful structure.
What Will You Learn?
The 9 Daily Practice Prerequisites for Building a Highly Effective Martial Body

Learn How to Harness Stored Elastic Energy (SEE) in the Muscles and Tendons for enhanced strength, power, resilience, and muscular endurance.

Advanced mobility training for striking, grappling, and pain-free movement

Strengthen the structure for immovable stability (while still AND in motion!)  and Mack truck like power delivery

New details on the ancient, traditional practice of standing meditation

Neutrally supported stepping for balanced movement

Build 3 dimensional strength throughout your entire range of motion.
What's Included in the Program?
Highly Effective Unconventional Functional Training to Develop Real-World, 3 Dimensional Strength, Powerful,

 Pain-Free Movement, and Non-Stop Endurance 

Unique Strength, Stability, and Mobility Exercises Designed to Increase Range of Motion, Strengthen Joints, and Forge Steel Cable-like Tendons and Connective Tissue

Step-by-step Training Manual and Detailed Video Break Downs of All Exercises

Comprehensive Recovery Techniques and Tactics Combining the Best of Flexibility, Mobility, Breathing Exercises to Make sure You are Moving Pain-Free and Keep Your Gains Coming Without a Plateau.

A Complete 10-Week Plan to Put It All Together for You and Remove Any Guesswork from How to Succeed with this Program

Includes 44 Videos Detailing Every Exercise and Practice Inside the Unified Strength Program!
Who is Coach Jon Haas?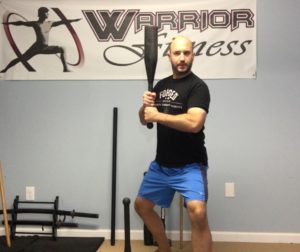 Jon Haas, "The Warrior Coach" is the founder and head instructor of Warrior Fitness Training Systems. He has been training in Bujinkan Budo Taijutsu for more than 25 years and is currently ranked as a Kudan (9th degree black belt) under Jack Hoban Shihan. He has also trained in Okinawan Karate, Tae Kwon Do, Russian Systema, BJJ, Krav Maga, as well as Internal Martial Arts of Yiquan and Aiki. He is a certified Underground Strength Coach-Level 2, a certified Personal Trainer as well as founder of Warrior Fitness Training Systems. In 2008, Jon wrote the book, Warrior Fitness: Conditioning for Martial Arts, and since then has created numerous other online training and coaching programs helping people around the world become the strongest, most capable versions of themselves!
For well over a decade now I have been researching, testing, and reverse-engineering the top levels of human performance from ancient warriors and yogis, old-time strongmen, and the cutting edge training of today and applying it to martial practice.
I believe this uniquely qualifies me to deliver the most advanced strategies and practices out there to literally supercharge your martial practice in an extremely short amount of time.
Your Investment for the Complete 10-Week Unified Strength Program is Only $49 $7 Today

Please note this is a digital program.  No physical products will be shipped. Upon purchase, you will be emailed the download links to entire Integrated Strength Program allowing you to start training immediately!


This program comes with a 100% guarantee of your satisfaction. If after 30 days, you are not completely satisfied with this program, email me and I will return 100% of your money - no questions asked.