There you are, minding your own business when suddenly the world starts ending all around you…
Shit, you think. Day = ruined!
What happens?
Do you panic?
Run around screaming?
Look for some place to hide?
Hope someone else will come and save you?
Do you just give up and die?
Or, like Rick waking up from a coma in Season 1 of The Walking Dead, do you get your shit together, get professional, go get your family, and become a leader?

What determines whether or not you survive the Zombie Apocalypse, or any other type of apocalypse for that matter?
To me, it comes down to 3 things.
Training/Preparedness
Mental Toughness
Luck
Training/Preparedness
Are you strong? And not just one rep max strong – that won't serve you too well when a horde of zombies are chasing you and you need to carry your kid or spouse, or best friend to safety.
Do you have strength endurance? Do you possess a high level of work capacity? Are you able to perform at peak levels for an extended period of time?
Do you have usable, functional strength? Strength that integrates the entire body and allows for strong, 3 dimensional movement across all planes and throughout all ranges of motion? Or do you train in isolation?
If I were forced to pick just one tool that would develop all these qualities (and more!), it would be the kettlebell. Why? Because the kettlebell is an extremely versatile tool that builds raw, rugged, all-around enduring strength. And it's also a hellova lotta fun to train with at the same time!
As far as preparedness goes, that is a topic for someone with a survival blog. I'd go get me a crossbow though – just sayin! 🙂
Mental Toughness
Mental toughness, simply put, is the resistance to failure. It a series of qualities that allows you to persevere through adversity without giving up. When the world is ending and people are turning into flesh-eating zombies at an alarming rate all the while trying to kill you, this is an extremely necessary quality to possess!
Luckily, mental toughness is a quality you can develop with the right training.
Doing feats of strength endurance like high rep kettlebell swings or snatches or long distance heavy farmer walks interspersed with high rep body weight exercises or other kettlebell work will build that mental fortitude. Pushing the threshold of the body requires pushing the mind since the mind navigates the body.
One way to train for this is to put yourself through a severe challenge test of strength endurance/work capacity once a month or at least once a quarter. Pick a goal and just go with everything you've got! At the end you will be spent physically, but will feel great about all that you've accomplished!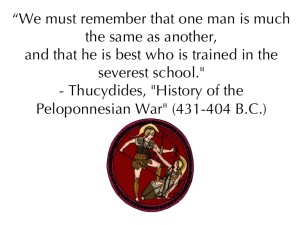 Luck
Sometimes just being in the right place at the right time is a factor in survival as well.  Let's face it, not everyone who is the most prepared survives all the time. Usually, in war it's the bravest warriors who die first since they are at the front!
Although, I do think that being physically strong, mentally tough, and having a positive mental attitude that things will work out in your favor goes a long way in creating your own luck.
And having a crossbow won't hurt either!