The Warrior Workouts
A Free Resource Brought to You by Warrior Fitness…
The following is a free preview of my upcoming program of the same name, The Warrior Workouts.
This sample program consists of a complete 4 weeks of training and is designed to give you a taste of the various types of training methods used within the Warrior Fitness Training System.
Each of these workouts has been specifically crafted to provide complete, full-body strength, conditioning, and power for martial art, sport, or anything else life can throw at you!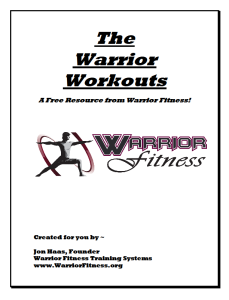 Download your FREE copy by clicking ====>>>>The Warrior Workouts – FREE RESOURCE